Scouts Complete Fire Safety Badge
This evening, Scouts finished a five week fire safety course, run by Staffordshire Fire and Rescue Service at Wombourne Fire Station.
During the course, Scouts learnt about how to prevent fires in their homes and at camps. They also thought about what to do in an emergency whilst learning about how the fire service respond to incidents and the equipment they use.
Tonight, Scouts dressed up in fire gear and had a go with the hoses. Everything quickly got very wet!
Below is a group photo of the group. You can see more in the photo gallery.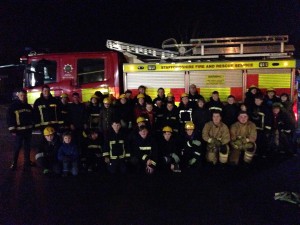 Thanks to Firefighters Paul and Chris for a very enjoyable and informative few weeks.